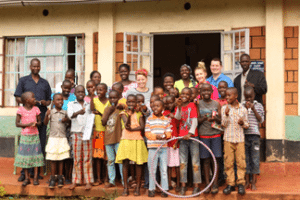 Dr. James Greenfield is joining a team of trekkers in Nepal to raise funds for Care Highway International, a children's health & education charity in Kenya.
The expedition takes place from November 6th – 22nd when trekkers starting from Kathmandu ascend over 5,380 meters or 17,600 feet to reach Base Camp Everest.
Dr. Greenfield became committed to CHI during a 2016 medical expedition when treating a starving, young boy. CHI provided food and medicine to the boy and his family, who returned with a big smile on his face the next day.
Care Highway is a registered charity in the U.S., UK, Spain & Kenya & through the work of committed volunteers applies 99% of all donations directly to its projects. Founded in 1997, Care Highway  works with the most vulnerable & impoverished children –those that are orphaned or abandoned.  CHI provides school & health programs in the Kiberan slums &  maintains a Children's Home in the Kenyan highlands where they also work with local communities to provide clean water and small scale farming operations to build independence and resilience.